Class 350/1 EMU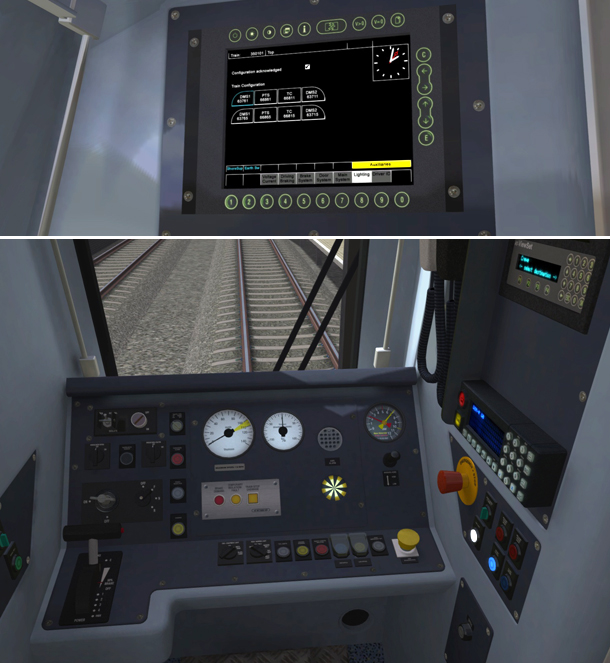 The fleet of 30 x 4-car Class 350/1 trains are formed of vehicles originally ordered for Class 450/2 trains. Sets are formed of two Driving Motor Standard Open (DMOS) vehicles, a Trailer Composite Open (TCO) incorporating a first class section and a standard toilet and a Pantograph Trailer Standard Open (PTSO) with a disabled toilet and wheel chair area.
In 2012 the fleet were uprated from 100 mph (161 km/h) to a top speed of 110 mph (177 km/h).
The Class 350/1 EMU features:
Pantograph Arcing and Illumination Effects
Neutral Section Functionality (compatible with "WCML Over Shap" route)
Functional Passenger Information System (PIS) featuring:

Driver Selectable Destinations
Cabin PIS Display
Passenger Compartment Destination Display
Automatic Audio Station and Safety Announcements
Passenger Compartment Next Station Display (Synchronised with Announcements)

Functional Train Management System (TMS) featuring:

Display of Current Train Configuration (4, 8 or 12 Car Graphic)
Clock Display
Headlight and Tail Lights Proving Display
Display of Dynamic Train Faults (including instructions to correct faults)
System Brightness Control

Four state Headlight and Tail Light controls
Functional DRA (Driver's Reminder Appliance)
Functional Braking/Traction Indicator
Functional Automatic Low Speed Button
New "Extended Cab" system to allow movement from Cabin to Passenger Compartment
Class 66/4 Locomotive
When British Rail's freight operations were privatised in 1996, "English, Welsh and Scottish Railway" (EWS) bought a large proportion of British Rail's freight operations. Many of the locomotives that EWS inherited were at the end of their useful life and EWS approached General Motors Electro-Motive Division (EMD), to supply a replacement. EMD offered their JT42CWR model which incorporated General Motors' version of (self-steering) bogies that reduce flange wear, improve adhesion and reduce track load. The locomotive design uses standard EMD components of its era
including D43 traction motors. The new JT42CWR locomotives were finally given the Class 66 designation in the British classification system (TOPS). Two hundred and fifty were initially ordered and built in London, Ontario, Canada.
Direct Rail Services (DRS), a subsidiary of British Nuclear Fuels (BNFL) ordered ten Class 66/4 locomotives (66401–66410), utilised mainly on intermodal container traffic. Further orders for an additional 24 locomotives were placed with the last entering service during 2008 (66411–66434).
These series 4 versions of the Class 66 were built as "low emission" to meet new, more stringent environmental rules. The main visual design difference is the addition of a mid-body access door to the new equipment required to meet these new emission targets.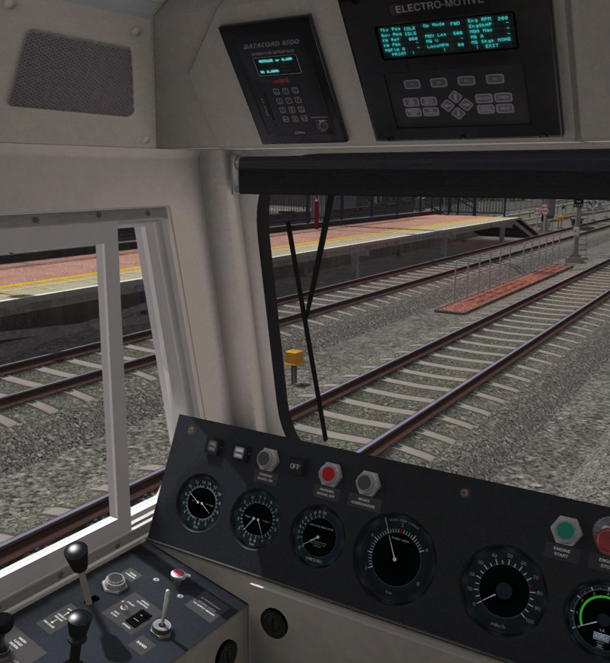 The Class 66/4 Locomotive functionality includes:
Low emissions variant body design with DRS logos and branding
PBL "Push and Hold" Train and Loco Brakes
Selectable "Passenger" or "Goods" brake timings
Cabin and Instrument Lighting
Four state Headlight and Tail Light controls with cabin proving panel display
Operating exterior fuel tank gauges
Functional Train Length Measurement System
Opening cabin windows with dynamic wind sound effects
Five cabin camera positions (including three driving position heights)
Digital cabin display showing current control states, speed, RPM and tractive effort
Independent left and right hand windscreen wiper control